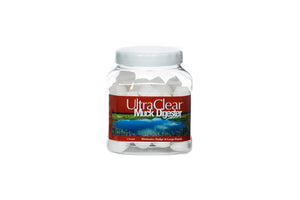 UltraClear Muck Digester
UltraClear Muck Digester for ponds and lakes reduces undesirable muck, eliminates organic build-up, reduces sludge on the pond or lake bottom and improves water quality overall. It also reduces disease risk for fish. UltraClear Muck Digester tabs offer a convenient, cost-effective solution for treating municipal ponds, farm ponds, industrial lagoons, and both commercial and residential ponds and lakes. Great for cold-water ponds too.
UltraClear Muck Digester's convenient, easy-to-distribute, one-ounce dissolvable tabs make it simple to treat all types of ponds and lakes. The tabs are particularly effective for treating the bottoms of ponds and lakes by slowly releasing seven beneficial bacteria.
Each tab contains 100% safe, natural ingredients. No harmful binding agents or chemicals are used! 
UltraClear Muck Digester for Large Ponds and Lakes:
Reduces muck in ponds.
Reduces sludge build-up from organic decay.
Breaks down and eliminates animal waste.
Eliminates murky water from organic waste.
Reduces odor from decay.
Reduces toxic ammonia from pond water.
Reduces problem-causing nitrate and phosphate.
Can be used any time of the year.
Is safe to use with all UltraClear products.
Comes packaged in a four-pound jar containing 64 tabs.
Dosage: Distribute the one-ounce tabs across surface of large pond or lake, dispersing as evenly as possible.
For lakes and large ponds, use 64 tabs per surface acre every 2 to 4 weeks. A four-pound jar contains 64 tabs and will treat one surface acre of water, assuming an average depth of 4 feet.
For medium-size ponds, use 16 tabs per quarter-acre every 2 to 4 weeks. This quantity assumes an average depth of 4 feet.