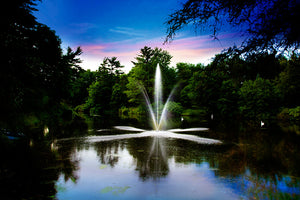 Clover Pond Fountains
Lucky you: you've found the ½-hp Clover! This efficient fountain creates an impressive cascade of water that sounds as beautiful as it appears. The brass center nozzle of the Clover sprays at heights up to 20 feet, and it's surrounded by separate side nozzles that create a spectacularly angled spray pattern, projecting water more than 15 feet at a 45-degree angle.
(When purchased with the optional 1½-hp oil-free motor, the Clover's main stream will reach heights over 40 feet and its side nozzles over 20 feet.)
The Clover fountain not only beautifies your pond, it also provides a healthy aquatic environment through oxygen transfer and water circulation.
Like all of the products Scott Aerator manufactures, the Clover utilizes a stainless steel, oil-free, submersible motor, making it the most environmentally friendly style of fountain on the market. The Clover is proudly manufactured in the USA and carries an unconditional, 5-year motor warranty.
This unit comes with 70 feet of submersible, 12-gauge cable. Greater lengths are also available. Available with lights too!
GFCI required. Please disconnect power source when swimmers are present.
230-volt motor also available.
60 gallons of water per minute.
Center stream is 20 feet high.
Side jets' angled spray pattern extends 15 feet.
Electric cable provided is 70 feet in length, 12-gauge submersible, with plug.
Electric cable can be ordered in greater lengths, up to 150 feet for 115-volt motor, even longer with 230-volt motor.
Light kits can be added later.
Approved for use in salt water.
Two 20-pound weights or concrete blocks required for anchoring (not included).
Two nylon ropes required for anchoring (not included).
Designed for 24-hour-per-day operation.
No maintenance required.
36-inch minimum pond depth required.
Motor specs: 60 Hz, single phase, 10 amps, 680 watts, 115 volts. 230-volt motor also available.
5-year motor warranty.
 
1/2 HP
115V
1/2 HP
230V
1-1/2 HP
230V
Watts
670
670
1770
Amps
10
5
10.6
Min Anchor Wt
25

 lbs

20

 lbs

45

 lbs

Power Cord
12 Gauge
70'
70'
100'